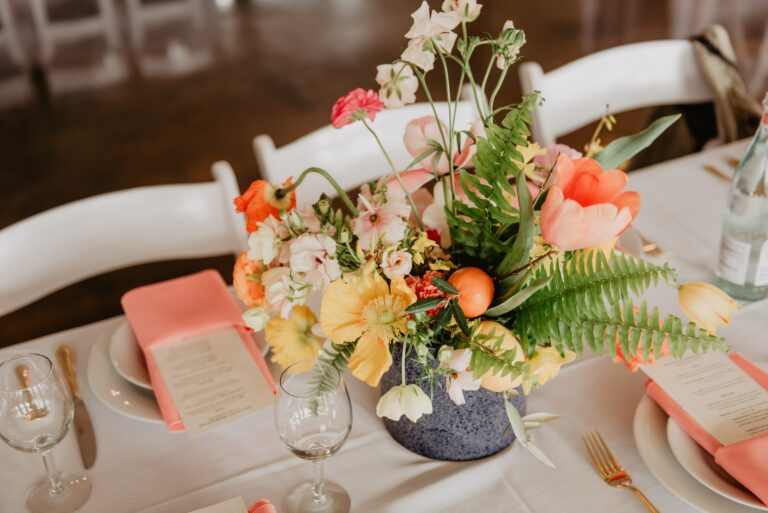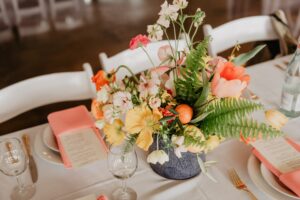 You've found the perfect venue, now all you have to do is organize a great event! Event planning can be challenging, but it doesn't have to be overwhelming. Follow our ultimate guide to learn everything you need to know about event planning and how to make the process as easy as possible. Planning an event involves coordinating a variety of tasks from selecting a theme and finding vendors, to finalizing the details and day-of coordination. It involves so many different aspects because it's not just about throwing a party, it's about hosting the perfect event with the people that mean the most as your guests. What are we waiting for? Let's get started!
Selecting a Theme
A great way to kick off your event planning journey is to select a theme. Your theme might be as simple and straightforward as a favorite color, or it can be more complex and specialized, such as a high tea or boho-chic affair. Your theme can be as simple or as intricate as you choose, so there's no need to feel obligated to choose something elaborate. In fact, selecting a theme ahead of time might help you to streamline the planning process, allowing you to keep laser focused on all of the things your theme requires. If your event is a black tie affair, for example, your décor, invitations, cuisine, and entertainment will all be influenced by this decision, resulting in a cohesive and unified event.
Finding the Right Vendors
Finding vendors can be a fun and exciting part of event planning, but it's also important to do your research before selecting a vendor. First, compile a list of potential vendors who fit your requirements and are within your budget. You can find suppliers through internet directories such as The Knot or through The Durham Exchange's preferred vendor list. Local newspapers, journals, and wedding ceremony and reception facilities are all good places to explore for information on suggested vendors. If you're planning a corporate event, vendor directories like BizBash can help you identify the perfect providers for your needs. Once you've compiled a list of potential vendors, contact them to request a proposal. Make sure to give yourself enough time to receive and review all proposals so you can select the best vendor for your event.
Deciding on Food and Drinks
Now that you've selected a vendor, it's time to decide on your food and drinks. Depending on the type of event you're hosting, there are a variety of factors you'll want to keep in mind when selecting the type of cuisine and beverages you want to serve. If your event is a cocktail party, for example, you'll want to select drinks that are high quality, easy to serve, and easy to drink. If you're hosting a conference, on the other hand, you'll want to select food that is easy to eat while standing up and that appeals to a wide variety of tastes and allergies. You'll also want to keep in mind the amount of food you'll need to serve your guests. It's a good idea to over order by 10-20% to ensure you have plenty of food on hand, especially if you're hosting a larger gathering.
Choosing the Right Location
Now that you've selected your theme, vendors can have a general idea of what you want to serve, now it's time to start selecting a location. Depending on the type of event you're hosting, you'll have a variety of options for selecting a location. If you're hosting a wedding ceremony and reception, for example, you'll have the option to host both events in one location. If your event is a conference, on the other hand, you'll only have one option: renting space at a convention center or a venue that accommodates corporate functions. When selecting a location, you'll want to keep in mind a few factors, including price, capacity, availability, and location. To make sure you're selecting an appropriate location, you can use an online venue finder to help you narrow down your options based on factors like price and capacity. The good news is that The Durham Exchange still has availability for your baby shower, Christmas party, or corporate event for the rest of the year. Schedule a tour with us and we will be sure to accommodate your requests.
Organizing the Actual Event
After you've decided on a location, it's time to focus on the specifics of your event. You should first choose a start time for your event. You should also choose a time window for your event based on the type of function you're hosting. If you're organizing a conference, for example, you'll want to choose a shorter event duration because you'll want to end at a decent time to ensure your participants get home at a reasonable hour. If you're holding a wedding or other social event, you'll want to choose a longer event duration to avoid restricting your visitors and to ensure that they have enough time to eat, socialize, and enjoy the dance floor. Next, draw up your program and decide on the flow and sequence of events during the actual day. This is a crucial step to ensure that nothing is overlooked and to contact anyone who will be involved in the program so that they can start preparing their tear-jerking speech.
Finally, it's time to relax and enjoy the fruits of your labor. A great way to kick off the final phase of event planning is to create a timeline that outlines all of the major tasks you need to complete leading up to your event and a checklist of all the minor tasks you need to complete on the day of your event. A timeline and checklist will help you stay on track, ensuring you don't forget anything and that everything runs smoothly. With a little preparation, event planning can be a fun, exciting, and relatively stress-free experience.