This building was named for John O'Daniel, a leader and advocate in his community. O'Daniel was once enslaved by J.S. Carr. Despite this, he went on to become the first African American landowner in Durham. He was faithful and true in every facet of life.
In 1930, the building became the Farmer's Exchange, a farmers cooperative. It housed Durham's first farmers market, referred to as a "curb market," that was operated exclusively by women.
Today, the building is known as the John O'Daniel Exchange. Located at 801 Gilbert Street, we provide affordable office space and a community atmosphere for small businesses and nonprofits near downtown Durham, NC. We are thrilled to use our event space for intimate weddings, special events, and corporate events to serve our community!
Suzanne Gigante, Venue Manager
Suzie is originally from Long Island, New York. She attended Quinnipiac University where she completed her bachelor's degree in entrepreneurship and small business management. She also earned a master's degree in public relations from Quinnipiac. While planning her own wedding, Suzie discovered her love for the event planning business and has never looked back.
With the railroad came industry, commerce, and the vitalization of communities.
The building began with the name the Paragon Hosiery Mill. It quickly changed names to the Bowling-Emory Knitting Mill, before coming into the ownership of industrialist Julian S. Carr. The early twentieth century was the height of the cotton production era, and 801 Gilbert Street became part of the ever-expanding Durham Hosiery Mill campus. The building is named for John O'Daniel, known as Carr's "right-hand man," servant, and later, trusted mill manager. John O'Daniel was the first African American landowner in Durham.
Cotton gave way to silk; the mill gave way to something new: The Farmer's Exchange. Durham's first Farmers Market found its home here in the 1930s. This Farmers Market was operated exclusively by women. The Farmer's Exchange was a center of entrepreneurship, provision, and community growth. The red masonry brick industrial-style building was the stage for conversations, negotiations, and transformation.
From the 1950s to the 1980's the building remained a significant site of commerce in Durham, NC. It was abandoned for several years until, in 2007, when entrepreneur Wendy K. Clark restored it to its former beauty. This transformed a piece of Durham history into a place of hope and celebration, a place to exchange of vows and ideas. 801 Gilbert Street currently houses nonprofits, serves minority businesses, and exists to impact systemic poverty. So, the building once again provides for and serves its community.
Write your own epic story. Listen for the train, the laughter, the conversations, and become part of history. Let this be the backdrop for your landmark event!
Renovations on the The John O'Daniel Exchange began in 2007. The building officially opened two years later, in 2009. Once a blighted building in a struggling part of the city, The Exchange has become a unique place where people of varying backgrounds and skill-sets can gather, connect, and impact the surrounding community in a positive way.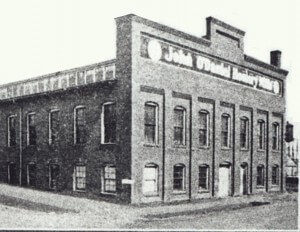 The John O'Daniel Exchange started life in the late 1910s as the Paragon Hosiery Mill. It quickly changed names and became the Bowling-Emory Knitting Mill for a very short period of time before being acquired in 1919 by Julian Carr as part of his expanding Durham Hosiery Mills.
From Kueber: "Carr named the mill after the recently (1917) deceased John O'Daniel – who the Historic Inventory euphemistically refers to as a former "servant" (rather than a slave) in the Carr household. By all accounts, the relationship between Julian Carr and and John O'Daniel was an interesting one. O'Daniel is referred to in several accounts as Carr's "right-hand man." Carr was one of the first to take the then-unconventional step of hiring African-American labor in his mills. The offensive belief of the time, according to Jean Anderson, was that "[B]lacks were incapable of running machinery." One of Carr's other mills was staffed and managed entirely by African-Americans.
Regardless, John O'Daniel was likely Carr's 'liaison' in the African-American community, helping to hire and recruit. He was one of the earliest African-American landowners in Hayti – purchasing a tract on Fayetteville St. in 1877, and he later contributed financially to the building of St. Joseph's.
O'Daniel's relationship with Carr led some to spread the rumor that O'Daniel was actually Carr's half-brother, which was never confirmed. Carr stated once that "John considered himself part of the Carr family." Take that as you will. John O'Daniel is buried in Geer Cemetery (which he may have been part owner of.)"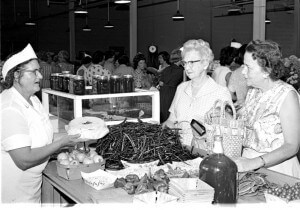 Farmers Mutual Exchange (1930-1980)
Unfortunately, the John O'Daniel Hosiery Mill was short lived as Julian Carr died in 1924 and John Sprunt Hill took over the waning mill. In 1930, Hill offered the mill as a building for the Farmer's Exchange which was a cooperative that grew to 900 members by 1935. Durham's first Farmers Market was located here in the 1930s and was operated exclusively by women! The women were able to provide an extra source of income for their families through the sale of poultry, eggs, baked goods, canned items, and fresh vegetables and flowers in season. Called a "curb market" at the time, it would later move to Foster Street in downtown Durham.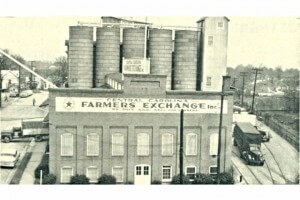 Farmers' Exchange in the 1950s
From Keuber: "By 1935, the Farmers' Exchange had a chicken processing plant here, and soon thereafter (1937) had built a feed mill for processing and marketing grain just behind the site. The feed mill production continued to expand, taking over the former space of the Durham Gas Company, and later becoming the Southern States mill on Gilbert St. The Farmers' Exchange also took over the former city stables at Gilbert and Alston. Financial statements from 1955 and 1956 shows that it was a significant place of commerce in our city."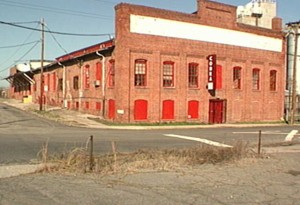 During the 1980s the Farmer's Exchange was shut down and the building was vacant until the late 1990s. At that point the building was converted into a nightclub called "Cobra" which lasted all of a week until a mysterious fire burned off the roof.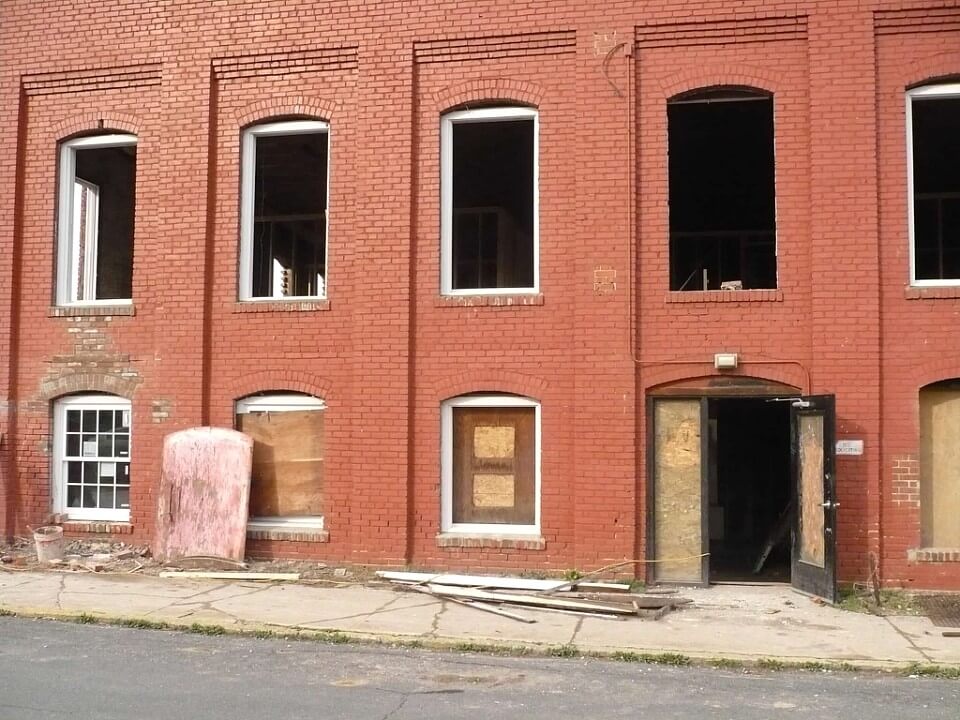 For most of the 2000s, the building sat abandoned and blighted. It was purchased in 2007 by Wendy Clark. She began renovations that would turn a forgotten piece of Durham history into the place of hope and community that it is today.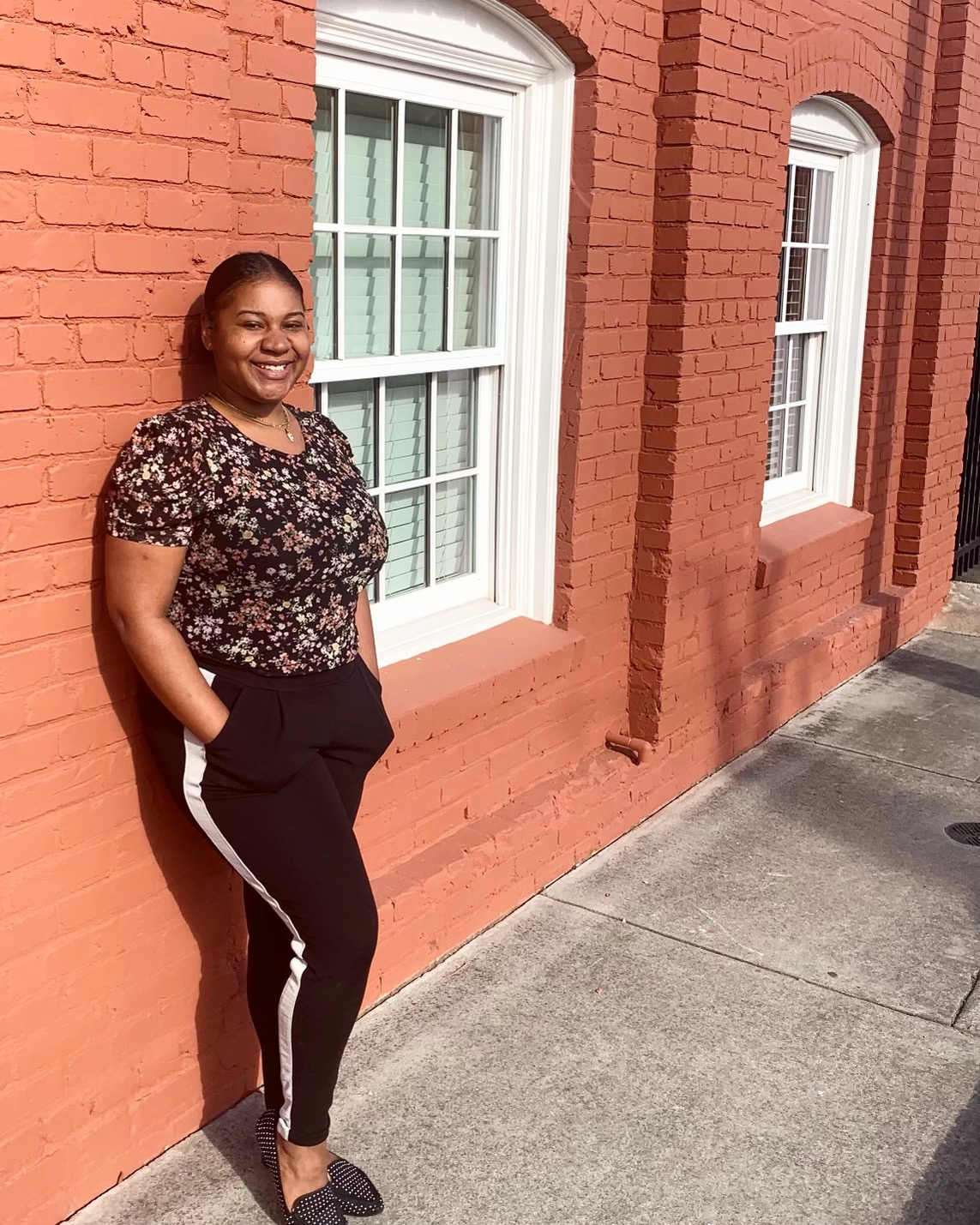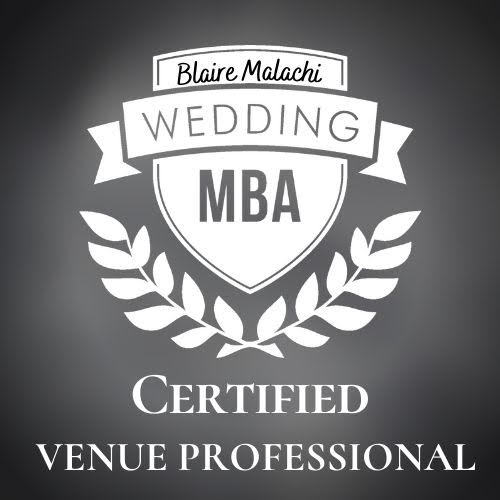 Blaire Malachi
BUILDING & MARKETING MANAGER
Meet Blaire! Blaire has been in the events business for several years decorating children's parties and coordinating special events. With her experience, Blaire will guide you throughout your entire event: from tours to rehearsals and The Big Day! When you schedule your walk-through, Blaire will be the first person you'll meet!