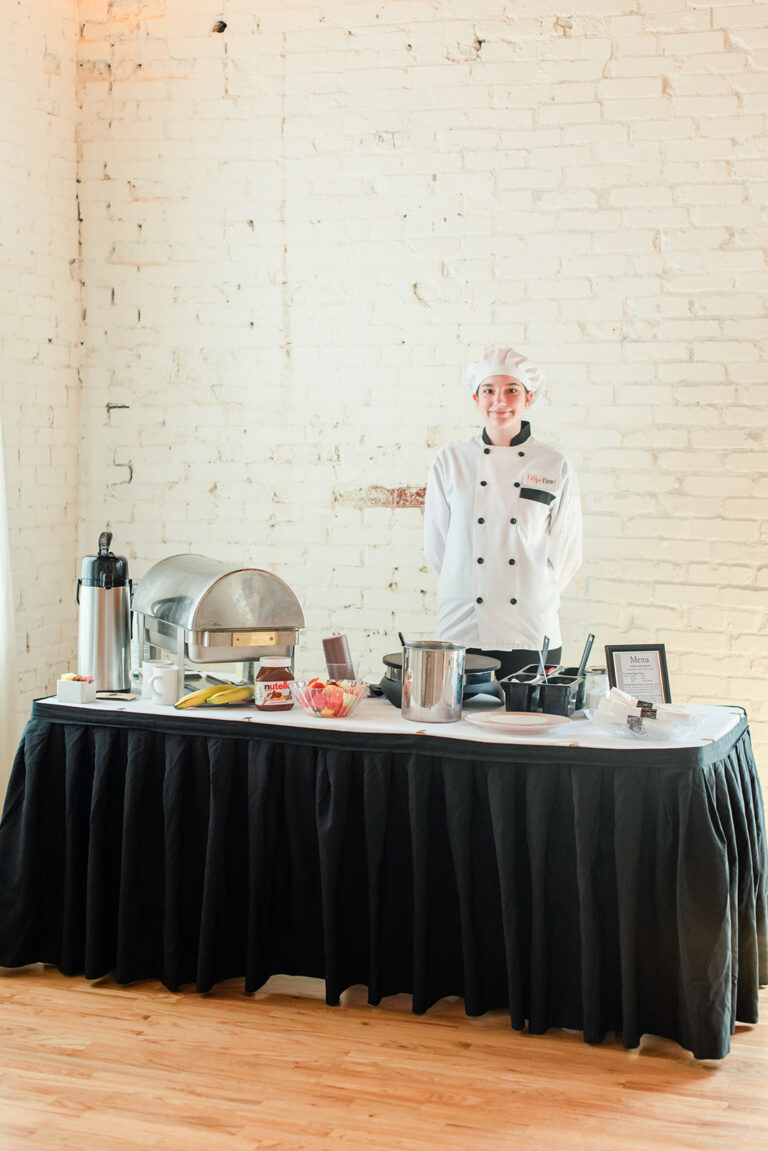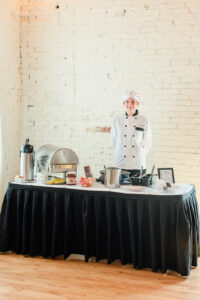 The dress of your dreams has been found. What's next? Most brides and grooms don't know how much work goes into planning a perfect wedding, which can be stressful and overwhelming.
Enter the wedding vendor.
In the wedding industry, a vendor delivers a service or product to a couple planning their big day. A vendor will typically offer a diverse selection of services, such as invitations, catering, or even musical entertainment.
Here are our top suggestions for finding the perfect vendor to ensure that your wedding day is all you've ever dreamt of and more.
Create your budget
Choosing a vendor that is out of your price range is the worst thing that could happen during your wedding process. To help avoid this, make sure you and your partner arrive at your vendor meeting with a predetermined budget in your rear pocket before you begin the process. Take into consideration what is essential and what is negotiable when it comes to your wedding day, such as an unforgettable menu or stunning photographs to look back on.
Read vendor reviews
If you haven't already made Google your best buddy, you might want to rethink things here. Check through local blogs, websites, social media, wedding directories, and any other reviews you can get your hands on. This will ensure that your potential wedding vendor honors all of the out-of-this-world promises made during your initial meeting.
Get everything in writing
Once you've met with your prospective wedding vendor in person for the first time, request a written itemized breakdown. To avoid any unpleasant surprises on the day of your wedding, you should obtain this quote so that you know exactly what services are included in the specified fee. When signing the contract with your vendor, don't forget to ask for clarification if you don't understand any of the pricing.
Make sure your personalities are aligned
Because you will be communicating with and spending a lot of time with your new potential vendor over the next few months, it is critical that you feel at ease and comfortable around them. Chemistry's significance cannot be overstated. If something doesn't feel right at first, it might be a good idea to keep looking. Vendors should not trick you into increasing your budget; this could be a sign that you should keep looking.
Once you've found your ideal team, believe in the process and keep going! Remember that these people are experts in their field and work with couples on a daily basis. Your wedding will be everything you hoped for as long as you have the right people on your side.
Still need a little help? Our affordable wedding venue in North Carolina is here to help with our trusted vendors.
Day-of coordinators
Emily Katherine Events – A wedding and event planning company in Durham, North Carolina providing a range of coordination services. They strive to realize your vision and let your personality shine through the details. EK Events will help take care of the parts you want to delegate, whether that's a few details or the entire wedding planning process.
Harmony Weddings and Events – Full-service wedding planners, designers & coordinators that believe a beautiful wedding can be created on any budget. Harmony Weddings and Events seek diversity and love working with couples whose weddings are a reflection of themselves.
Premier Party Planners – A full-service wedding planning and event planning boutique in Raleigh, North Carolina. They serve the Greater Triangle area with top-quality wedding and event planning for any budget. Their philosophy is that you should feel like a guest at your own event, so they strive to handle all of the difficult and stressful organizational components.
Photographers
But A Moment Photography – A North Carolina-based wedding photographer. Specializing in couples who are awkward in front of the camera and don't know what to do with their hands. Utilizes lighting techniques to capture your wedding, making sure that your images are amazing.
Timmester Photography – A wedding photography company based in Chapel Hill, North Carolina. Tracy Timmester has a keen eye for those moments that make a wedding celebration truly memorable. She has a wonderful facility for capturing emotion in all its joyous colors. She also has an extraordinary talent for escaping observation.
SP Whitsitt Photo – A veteran photographer with 25+ year photo career.
DJs & Music
Royal Lewis Music Services – Music is one of the most important elements of any celebration. Royal Lewis Music Services offer professional DJ and entertainment services that will keep the party going.
JD Silverthorne – Wedding DJ that has hosted over 800 private events and weddings, performed at The Firefly Music Festival, and toured at colleges and public events all over the country.
Eryn Jones Fuson – Entrust your wedding music to an award-winning musician and vocalist. Eryn offers solo harp, guitar, and piano, as well as networks with other musicians to assemble string duos and trios.
Caterers
City BBQ – Catering with City Barbeque is stress-free from the start, thanks to their dedicated catering specialists. Your planning begins with a complimentary tasting to help you narrow down your options. From there, they will help you customize your perfect spread, plus all the action stations you can imagine. They know you've got enough to plan, so they will take care of every detail. 
Virginia And Co. – Intelligent food stylists work with you to design your event menu, decor, flow, experiences, and timeline. They ensure that you achieve your event's broader goals and treat your guests to a great experience. 
Southern Harvest – Serving guests who are welcoming friends and family to their most important celebration is both a joy and an immense responsibility.  Southern Harvest takes the time to understand you, your wants and needs, your budgets, and then work to bring these all to life in a wonderful and memorable way. 
Bartenders
Drinkz By Design – Professionally trained and experienced bartenders. Specialize in providing exceptional cocktails and beverage service for weddings, engagement parties, birthday parties, corporate events, and a wide range of events.
The Classic Hour – Private bartending services based on signature cocktails dating back to the early 1900s at the helm of the prohibition period. These cocktails are classically-styled to their original recipes.
Bakeries
Mom And Pop's Cupcakes and More – Whether you are getting married, celebrating your birthday or anniversary Mom & Pops will provide what's needed to satisfy the sweet tooth of you and your guests.
Capital Cakes NC – Unique cakes designed to make your event memorable. You can personally design your cake or they can help design it with you. Capital Cakes can make any size and any type of cake to meet your needs and vision.
Hair And Makeup Artists
Made Beautiful By Roya – Hair and makeup artist with more than 14 years of experience with a passion for making people feel beautiful. Not only on their most special days but every day.
Michelle Clark – A Raleigh-based makeup artist specializing in weddings, commercials, TV/Film, and high school seniors or Raleigh wedding makeup artist.
Theresa Burden Beauty – Like stars in the sky, every face is unique and the right makeup artist can help you shine from the inside out. Looking your best can transform your mood and confidence in a powerful way.
Florists
Flowers by Gary – Gary, an NC Certified Professional Florist and Michael an AIFD Certified Floral designer, bring an array of unique, creative skills, with a combined 30 years of experience in the floral industry. Together, they combine their artistry, passion, and professional floristry knowledge, to offer style suggestions in an effort to create vibrant custom florals. Resulting in visually stunning displays inspired by nature's beauty, that will complete your wedding vision.
Event Flouret – Event Flouret is a local floral studio, designing custom flower creations for weddings and events. Based in Carrboro, Event Flouret specializes in indoor outdoor beautiful and elegant wedding ceremonies and receptions around the greater Triangle area of North Carolina.
Rentals
Grand Rentals NC – One of the largest complete party rental and equipment rental stores in The Triangle, serving Raleigh, Durham, Cary, Chapel Hill, Pittsboro, Hillsborough, Garner, Clayton, Wendell, Fuquay-Varina, Wake Forest, Benson, Burlington, Sanford, RTP, and the surrounding area.
American Party Rentals – American Party Rentals is a local, family-owned, and operated business that began serving the Triangle community in 1989 under the ownership of Pete and Judy Daymont.
This is not an exhaustive list of The Durham Exchange's preferred vendors. Check them out here.
Don't like what you see? We also have an open vendor policy to give you the opportunity to customize your wedding experience.